Cheryl S. Hark
Member Since
September 2011
Member Type
Sustaining, group
AIGA Chapter
New York
Title
Graphic Designer
Company
New York University
Email

moc.krahlyrehc@lyrehc

Website
www.cherylhark.com
Portfolio Site
www.cherylhark.com
Field
Design/Graphic design
Art direction/Creative direction
Photography
Bio

Cheryl graduated from New York University with a Master of Science in Digital Imaging and Design and a Certificate of Graphic Design. She also holds a Bachelor of Fine Arts Cum Laude from the University of Michigan, and has provided her creative services to prestigious organizations including The United Nations, Marc by Marc Jacobs, Ford Models and TimeOut NY magazine in New York City. Cheryl is a multi-talented designer with a strong work ethic and excellent organization skills while being an equally successful independent worker and team player. Nearing a decade of professional experience, Cheryl brings creativity, ingenuity and avidity to any client and project.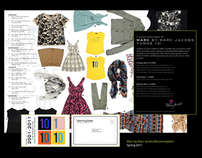 Valuable benefits for members only