Mr. Dwayne Lester
Member Since
October 2007
Member Type
Sustaining
AIGA Chapter
Baltimore
Title
Multimedia Specialist/Graphic Designer
Company
Defense Information Systems Agency
Email

moc.liamg@62guaval

Portfolio Site
www.creativehotlist.com/profile/d-lester2
Bio

Visionary, resourceful Senior Designer/Illustrator with specialty expertise in corporate and governmental settings and proven success in innovating graphic design, illustration, photography, and production solutions on time and under budget. Respected leader of diverse, cross-functional teams and highly regarded as a key resource, critical thinker, and out-of-the-box problem solver by senior executives. I am a unique individual/person that has been able to do a myriad of jobs and excel at them all. A polymath: painter, illustrator, musician, photography, writer, etc, with the ability to excel in them all. Backed by solid credentials including AAS in Art for Advertising (concentration in design and illustration), AA in Business Administration with Accounting credentials, advanced Adobe Suites acumen in CS4/CS5/CS6 and Production suites and cross platform expertise (Windows/Macintosh).15 years of experience.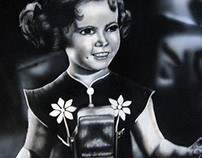 Valuable benefits for members only